Restore your photos to their original state without emojis!
More Possibilities on Multi-platform AniEraser
Remove watermarks, objects, texts, emojis, and more on your PC or Mobile devices according to your preferences.
To access all product solutions and comparative information for AniEraser, click here to view.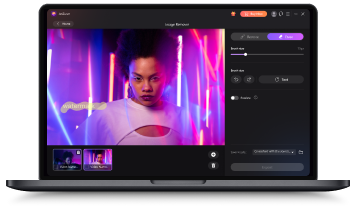 More advanced function for desktop
Supports import and export of more formats.
Supports large and high-resolution files.
Supports batch processing of multiple files.
How to remove emojis from photos easily?
Know more about AniEraser
How can I remove emojis from photos and videos?
AniEraser is a powerful but easy-to-use tool that enables you to remove emojis from photos and videos. All you need to do is upload the media file, select the area of the photo or video that has an emoji, and then click erase. The program can help you delete several emojis at once, making it easier and faster for you!
Does removing emojis from photos and videos reduce the quality of the images?
If you're looking for a way to erase emojis from your images without losing quality, look no further than AniEraser! Our powerful AI technology can automatically remove the emoji and try to restore the perfect picture. This avoids the problem of photo quality loss.
How long does it take to remove emojis from a photo or video?
Removing emojis from photos and videos can take varying amounts of time, depending on the complexity and size of the file. AniEraser can quickly and efficiently remove emojis from videos or images! Our AI algorithms guarantee a high-quality result and save you time. So please give it a go today and experience its power!
What are the differences between AniEraser on the web, mobile, and desktop?
AniEraser is available on the web, iOS, Android and desktop. You can easily use the same features across all three platforms. Web and mobile versions are great for light editing. The desktop version offers consistent handling of large and unlimited files - perfect for editing large photos or videos. All in all, AniEraser is a great tool to enjoy!
Is it possible to remove emojis or stickers from Instagram story pictures others post?
Unfortunately, removing emojis or stickers from Instagram story pictures posted by others directly within the Instagram app is impossible. This is because Instagram does not provide a built-in feature for editing or modifying others' content. However, Anieraser can remove or erase unwanted elements (logos, emojis, and stickers) from images. It typically uses advanced AI algorithms to analyze the image and intelligently remove the selected elements while attempting to maintain the overall image quality. Of course, please be aware of the risks of copyright infringement and avoid violating the rights of others
Meet more AI Tools.

AniEraser Quality Rating:


4.8 (17,586 Votes)