Enjoy the perfect photo our erasing tool bring to you!
More Possibilities on Multi-platform AniEraser
Remove watermarks, objects, texts, emojis, and more on your PC or Mobile devices according to your preferences.
To access all product solutions and comparative information for AniEraser, click here to view.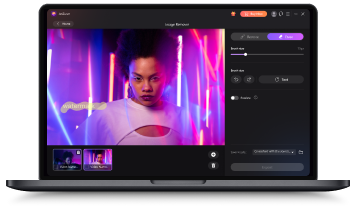 More advanced function for desktop
Supports import and export of more formats.
Supports large and high-resolution files.
Supports batch processing of multiple files.
How to remove people from photos easily?
Know More About People Removal
How to remove person from photo online for free?
Upload your photos online to AniEraser then brush over the person you want to remove. Click on "Remove Now" button. Our AI technology will perform precise detection and edit out the people without affecting the photo background. All of this happens in a matter of seconds!
How to cut someone out of a picture without Photoshop?
AniEraser is your best alternative to cut someone out of a picture without using Photoshop. With a few simple steps online, you can easily remove people from your pictures.
How to remove a person from a photo on an iPhone?
If you are an iPhone user, you can download the AniEraser app for iOS to remove a person from a photo.
What's the best app to remove a person from a photo?
If you think that the desktop people remover in your software is hard to use and you are looking for the best app to remove a person from your photo, look no further than AniEraser! It allows you to precisely erase people from photos with customizable brushes. And AniEraser will automatically fill in the background and restore the most realistic scene.
How to remove people from a video?
Have you ever wanted to remove people from a video but didn't know how? With Anieraser, removing people from your videos is easier than ever. With powerful AI algorithms, it can accurately identify and remove people or other unwanted elements from videos in just a few clicks.
What is the difference between web, mobile app and desktop app?
AniEraser is available on WEB, iOS, Android and desktop. You can achieve interoperability among the three sides by keeping the same features, UI, and membership benefits. However, the web and mobile versions aim to provide light and convenient removal solutions. The desktop version offers the ability to handle large files consistently while maintaining efficiency. Moreover, there is no limit to number of file-handling requirements. Therefore, we recommend you use AniEraser on the desktop when your conditions allow.
Compare cross-platform features >>
Meet more AI Tools.

AniEraser Quality Rating:


4.8 (17,586 Votes)